Each year, The Association of Junior Leagues International publishes an Annual Review that examines the impact our Leagues and League members have had over the past year.
Although the needs of our communities continue to change, our commitment to what we do never wavers: Empowering women to lead. Whether in the public eye or behind the scenes, the women of The Junior League are committed to moving society forward—challenging the status quo, disrupting convention and guiding our communities toward a better future for all.
Often times, the issues we tackle don't immediately lead to clarity or closure. They are big issues, multi-faceted issues that pose great threats to civil society. These are the issues we're drawn to. These are the issues we believe can, over time, be resolved… and that the solution begins with compassion, curiosity and an open mind willing to explore and understand the root causes of an issue and engage in inclusive community dialogue. Because we know from experience that change—true change—can't be framed up in a soundbite… that lasting progress is the long-form of real life, of real people, working purposefully with others, weaving intention into reality.
Where better can this be seen than the events that played out during 2015-16 with one issue in particular? An issue that has touched every one of our communities, either on the ground, or in our collective hearts and minds. It has reminded us that we live in a time where the effects of fear, discrimination and injustice don't just play out over the course of a generation. They can bloom seemingly out of nowhere like wildfires, igniting communities into scenes of crisis, leaving millions of scared and angry people to wonder: What do we do now? How do we mend these wounds? And who will lead us to peace?
A Light in the Dark
Championing civil discourse in times of unrest.
When civil unrest erupted in Ferguson, Missouri in August of 2014 after the fatal shooting of Michael Brown, it was almost impossible to imagine the wave of similar events that would spread across the nation—a chain of cause-and-effect, fueled by fear, discrimination and bias, that would draw deep and disparaging lines among and between American communities and the police forces meant to protect them. Around-the-clock news coverage and a torrent of social media posts brought the protests and the national conversation about racial injustice to the forefront of our daily lives, forcing us to ask "How did we get here? And what do we do now?"
Of course, these were the big questions we would have to face as a nation over time, but at that very moment, on the streets of Ferguson, another more immediate response was needed, and the Junior League of St. Louis sought to engage.
There wasn't a handbook for helping a community through a situation like this. The answer couldn't be found on Google. It would require quick thinking and responding to an immediate need, while looking for ways to forge a purposeful path forward—a situation not unlike the ones faced by Leagues for more than a century.
What comes after the first responders?
As peaceful demonstrations evolved into violent protests, the police, fire department and paramedics went to work. But what happens when one of those three becomes the subject of protest? It has the power to undermine the entire effort of calming and stabilizing the community. Inevitably, that responsibility falls on the shoulders of the community itself—its civic and political leaders, places of worship, educators, its citizens. Among this group is The Junior League, an organization of non-partisan, highly trained female leaders who work closely with key community players to help identify what needs to be done, advocate for the unheard, illuminate the issues and work to address them.
St. Louis League President Allie Chang Ray shared her experience after the events in Ferguson.
The first challenge was the physical reality of the neighborhood where Michael Brown was killed; it was virtually impossible to access. With very few streets in or out, the community was like an island unto itself. Additionally, the area was completely shut down by the first responders helping the wounded and overseeing the investigation. This meant that families in Ferguson were essentially trapped inside the trauma; running out of food and the most basic supplies like diapers and baby formula.
The Junior League of St. Louis looked for a way to engage, initially supplementing United Way efforts to provide supplies and services to families, overseeing collection drives and organizing activities for children whose schools had been closed due to the protests.
With the immediate needs addressed, Ally and her team—alongside other key community stakeholders—sought to uncover the events that led to the unrest in Ferguson. What was the root of the problem? And how could the League help the community ensure a better environment for all in the future?
Things aren't always what they seem.
The Junior League of St. Louis began by sifting through the data collected from different sectors of the community, identifying indicators that would point to civil unrest.
"On the surface, it looks like there was a confrontation between an unarmed teenager and a white police officer," said Ray, "but if you dig deeper and you understand the conditions that we have in St. Louis and the reasons why these things happen… and it becomes really, really clear [that there's more to it.]"
Among the insights, which pointed to deep systemic injustices and inequality, the League learned that nearly a quarter of the population of Ferguson lived in poverty, that the community increasingly felt alienated by law enforcement and that there was a dire need for a financial empowerment initiative—not only targeting Ferguson, but all of St. Louis.
The League has since made it their "mission" to increase the minimum wage, ensure an interest cap on predatory loans, and help its largely "un-banked" community identify the right financial solutions and institutions with which to work. It's desperately-needed, highly visible programs like these that are proving the League's commitment to the daily needs of their communities and earning them a seat at the table.
Only a year after the unrest in Ferguson, we saw a frighteningly similar chain of events unfold in Baltimore. Following the death of Freddie Gray at the hands of six Baltimore police officers, protesters swarmed the city, many becoming violent—fires, looting, attacks on police officers—culminating in a citywide state of emergency.
While the Board deliberated about how best to engage in the crisis, individual members of the Junior League of Baltimore responded immediately, deploying around the city, helping anywhere they could—from clean up, to delivering prescriptions to the elderly, to dropping off toys and school supplies to the city's "safe zones." Members shared their experiences with each other as they moved across the city finding the best and most effective ways to help in the immediate aftermath of the crisis. Internally, the events in Baltimore catalyzed the League in an effort to re-engage more meaningfully in the community and regain its historically powerful voice in driving substantive, lasting change.
The Junior League's response would be tested again, a couple months later, when a lone gunman entered a church in Charleston and shot and killed nine people in a Bible study group, attempting to incite a race war. Here, the events hit even closer to home as many of the Junior League of Charleston's members knew the victims personally. Over the following weeks, the League served as a central point of communication, contacting fellow parishioners and community leaders, confirming that people were okay and helping the community understand what was happening.
From first word of the shootings, to the fundraising efforts for the funerals, to the re-fortifying of the community-at-large, The Junior League of Charleston has served as an anchor in the storm, helping the city learn from the tragic events, and begin to chart a new path forward.
As an ongoing response, the Junior League of Charleston has become a central force in training community leaders around social and cultural inclusion. Workshops and seminars, supported by educational blog posts and active social media outreach, are helping to build a crucial conversation between every corner of the community, bridging various constituents, and helping them align around a common goal.
When it comes to leading our communities in times of unrest, knowing how to respond in the moment is only half of the equation. The other, perhaps more important half, involves creating an environment of civil discourse and developing lines of communication that will guard against future breakdowns and help steer the response when crises occur.
It requires a commitment to the long haul, to finding comfort in the fact that nobody necessarily has "the answer," but that together, through respect, grace and perseverance we can put ourselves on a path towards progress, starting with open dialogue.
And there are solid actions The Junior League can take—many of which we've already started implementing. In the summer of 2016, we held an interactive webinar facilitated by Carol Scott, President of The Association of Junior Leagues International, and attended by over 100 League leaders from cities across the US, UK, Mexico and Canada. The event served as an open forum for Leagues to discuss the challenges each of their cities are facing around civil unrest, and coming up with ways to build lasting and effective civil discourse.
The programs shared provided a glimpse of the powerful, immersive engagements we can expect to see in the future—a safe city plan confronting bullying in Long Beach; a homelessness simulation in Tacoma; a diversity summit spearheaded by Baton Rouge—all designed by highly-trained female leaders who aren't averse to tackling issues others won't.
Because in the end, for us, this is about leadership—and the unique role women can play in effecting positive, lasting change in communities near and far.
Clearly, there's a long road ahead. And as we forge a path forward, no challenge or trigger, will be the same as another. Orlando, Baton Rouge and Dallas are but a few vivid reminders that we are living in fearful, reactionary times. But in these moments of crises we see who we truly are—unwavering and indefatigable forces for good who, firmly into our second century, continue to challenge assumptions and embrace contradiction for the betterment of civil society.
And there's hope to be found in these moments as well—that in this highly connected, highly visible world that we now live in, people are tuning into each other from every corner of the globe, searching for answers, for others who lead by example, so that they can carry that torch of knowledge back to their own communities. And that may be the greatest opportunity of all—that these wildfires of unrest could be replaced by a flame of courage, lighting the way to the world we wish to see.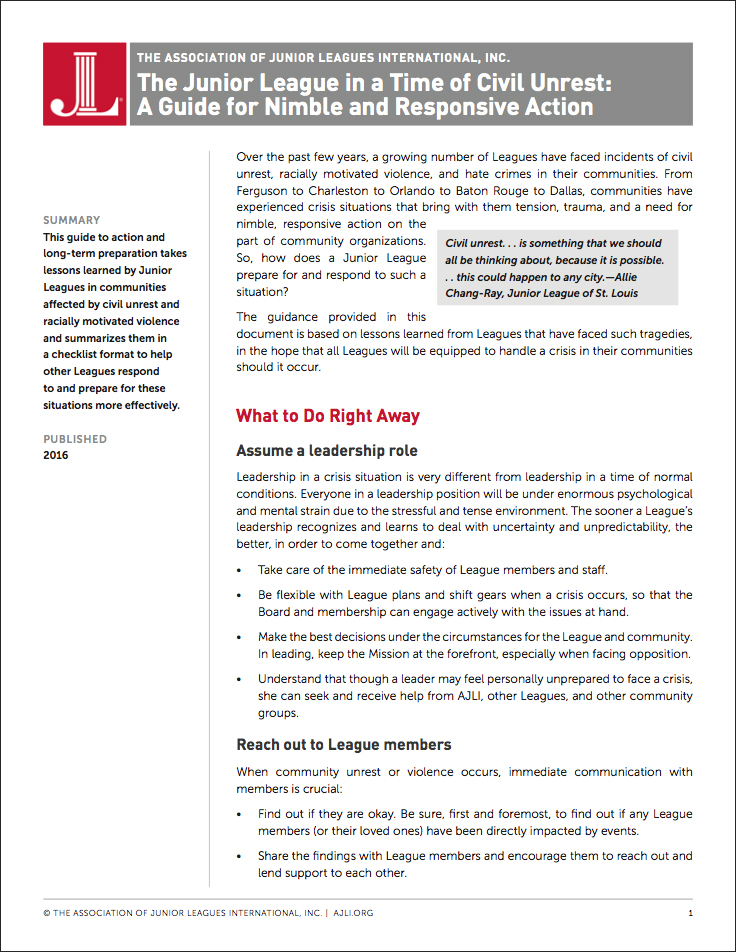 AJLI created a guide for immediate responsive action to civil unrest based on The Junior League's first-hand experiences in St. Louis and Baltimore—providing both immediate and long-term strategies.

BE A PART OF THE MOVEMENT
The Junior League is a charitable, not-for-profit organization empowering women as civic leaders to make real, sustainable improvements in their communities.
Join Us
Your donation ensures that women leaders can continue to thrive in their mission to improve our communities, solve the tough issues, and fight for the underserved.
Donate Now
Since 1901, The Junior League has developed exceptionally qualified civic leaders to identify communities' most urgent needs and help improve people's lives.
Learn More
Colgate Bright Smiles Bright Futures
Digital Cheetah
Mercer
Lincoln
W by Worth
Gwynnie Bee
Executive Committee
Allison Hammond, Secretary
Ellen Rose, President
Carol Scott, President-Elect
Mary Jo Hunt, Vice President
Renee Tucei, Treasurer
Board of Directors
Anne Townsend
Audrey Ring
Carol Goodman
Cece Gassner
Coyo Muñoz
Cynthia Foster
Darci Swanson
Deann Cook
Deborah Rubens
Dona Ponepinto
Ingrid Jacobson
Kathleen Demro
Subha Lembach
Sylvia Strobel
Governance Committee
Cynthia Foster
Dona Ponepinto
Anne Marie Colombo
Cheri Boyle
Elizabeth "Betsy" Conway
Gwin Londrigan
Jeannie Deakyne
Nancy Scarlato
Whitni Wilson-Wertz
Feisal Afzal
Altruette
Amazon Smile
Anatolia Designs
Wendy Anthony
Meghan Baber
Mary Babson
Constance C. Bailey
Angela Ballard
Adele Beekman
Sarah Berthelot
Joel Blainey
Deborah Brittain
Len Brown
Denise Bussa
Madalyn Butler
Cynthia Clanton
Anne Marie Colombo
Marianne Connor
Elizabeth "Betsy" Conway
Deann Cook
Martha Cottingham
Joan Crenshaw
Susan Cruess
Susan Danish
Liz Davis
Jeannie Deakyne
Clotilde Dedecker
Kathleen Demro
Linda Evans
Samantha Fabrigas
Elizabeth Farr
Susan Felling
Angela Fields
Becki Fleischer
Paula Flippin
Cynthia Foster
Alice Gardner-Boreta
Sarah Jane Gillett
Carol Goodman
Erin Graham
Kit Hall
Allison Hammond
Elizabeth Harris
Astrid Hoffman
Becker Holland
Carol Horsman
Mary Jo Hunt
Robbie Jackson
Ingrid Jacobsen
Jennifer Johnston
Jenn Devlin
Meredith King
Dona Laughlin
Laura Lively
Laurel Lee-Alexander
Leighelena
Subha Lembach
Lincoln Motor Company
Martha L. Linsner
LiSTEN Brands llc. Pluggz
Christen Losey-Gregg
Karen Luke
Jan Lutz
Pamela Malester
Alyson Mims
Laurie Mirman
Samira Modad
Maridel Moulton
Coyo Munoz
New Orleans Convention & Visitors Bureau
Rhonnie Newton
Kathleen Odne
Nancy Pace
Carolyn Pait
Cari Pillo
Dona Ponepinto
Mariben Ramsey
Marisabel Raymond
Audrey Ring
Sue Rogers
Diann Rohde
Ellen Rose
Deborah Rubens
Martie Russel
Carol Scott
Julie Siebel
Sikara Austin
Jonathan Sladek
Corinne Stammel-Demmien
Stop and Stor Charitable Fund
Sylvia Strobel
Darci Swanson
Tecovas
Yvonne Thomas
Sandra Thomas
Anne Townsend
Renee Tucei
Elizabeth Tyminski
Kim Van Leeuwen
W by Worth
Pamela Antoine Weekes
Teresa Widmer
Christine Zieverink


THE ASSOCIATION OF JUNIOR LEAGUES INTERNATIONAL, INC
80 MAIDEN LANE, SUITE 1504, NEW YORK, NY 10038-4609

U.S. & CANADA: 212.951.8300 / 800.955.3248
MEXICO: 001-800-204-5009
U.K.: 0800.015.4673
AJLI.ORG / BLOG.AJLI.ORG / CONNECTED.AJLI.ORG